Ella-Mae Theresa Joy Gleed
6/8/06-6/11/06
My princess Ella-Mae was born on 8th June 06 at 25+2, i had severe pre-eclampsia & both our lives at this stage were at risk. Sadly my princess tried to fight too hard, when she didn't really have to, her CPAP were doing all the work, but like her mummy is as stubborn as a mule... my baby girl passed to the angels at 3 days old. My love for my girl will go on forever, she is always in my heart & always on my mind. Until we meet again princess xxxx
Daughter of Shelly Gleed
Please visit Ella-Mae's site here:
ellamae-gleed.memory-of.com
---
Evan Robert Binnion
6/12/07-11/11/07
Evan was born on June 12, 2007 and went to Heaven on November 11, 2007. He was born 14 wks early and died of complications from NEC.
"You are forever my superman, mommy loves you bubby"
Son of Melissa Binnion and Baby brother to Kaylee


---
Ava Catherine Louise Rainville
12/6/08-1/11/09
'Love you Always and Forever mommy and daddy's little angel'
Beautiful daughter of Melissa and Denis







---
Bradley Anthony Dell
8/16/2009- 8/18/2009.
My son Bradley Anthony Dell was born with a severe diaphragmatic hernia, which was only finally detected at the last week of pregnancy. He weighed 8lbs 8ozs and fought a hard 2 day fight after passing away in my arms (my first and last hold). His big sister also go to meet him and she will always know who he is.
'Flutter by my Butterfly. Mommy & your family misses and loves you tremendously. xxxx'
"Forever, but never just; a memory"
Son of Shannon Gibb


---
Wade Albert Smith Jr.

2/16/1983-2/17/1983
Baby Wade was born early via emergency delivery after an OTC medication for UTIs, recommended by the doctor, caused a severe problem. He lived for 15 hours but too much damage was already done to his precious body. The OTC medication was soon after removed from the market as several women had to experience the same loss due to it.


---
Michael Ray Littell

9/15/1954-10/6/1954
Michael Ray was born Prematurely to MaMaw and PaPaw Lane (My husband's grandparents). He died due to medical negligence. The nurses in the NICU were weaning him off of oxygen and somehow it was overlooked that he wasn't put back on it after a feeding. He died due to suffocation at 3 weeks old. To make things more tragic the day of his death they held a graveside burial in Hilldale cemetery. When his parents returned a month later to begin planning for his headstone. They couldn't find his grave. They were told his body had been moved and the cemetery had no records of where it was. To this day it's unknown where Michael Ray's exact burial spot is. I had a little monument erected at his mother's grave but the cemetery has since removed that.


---
Michelle Elizabeth Fiorello
8/25/04-9/1/04
Michelle was born at 24 weeks gestation due to her mommy having Pre-E and HELLP syndrome. Michelle passed away from complications of extreme prematurity.
Mommy and Daddy love and miss their Little Flower



---
Skyla Manawa Te Maipi
10/13/07-6/13/08
She spent her whole 8mths of life in hospital. She was born with a Congenital Diaphragmatic Hernia, Coarctation of the Aorta, VSD, Cleft Palate, No right side clavical. She had Chronic lung Disease, Pulmonary Hypotension, a Fundoplication, Gastrostomy, She had a Trachy and was ventilator dependant. She had so many infections, Staph, RSV, phnemonia, Para Flu. She beat severe septic shock and 5 cardiac arrests. It was her 6th cardiac arrest that took her from us. A true fighter, right to the very end. We love you and miss you so much darlin. Your in our hearts forever. Skyla was the strongest and bravest little girl i have ever known. I was so proud to call her my daughter. Now my beautiful little Angel in heaven.
You can find a blog about Skyla here:
skylacdhbaby.blogspot.com
Beautiful Daughter to Kristy Bowling
---
Madison Ann Holiday
10-3-2007 - 03-5-2008
Madison was born a Identical Twin at 28 weeks gestation due to Mom having severe HELLP Syndrome. She was 1 pound 9 ounces and 12 1/2 inches long at birth. She was born with a Diaphragmatic Hernia. She was too small for ECMO. She was on a jet vent, nitric oxide, and too many drugs to list. She underwent her repair on Nov 8, 2007. She actually started to improve. She also had laser eye surgery for stage 3 ROP. She also had a Broviac surgery. She reherniated and needed a feeding tube placed. They were waiting for her to be a little bigger and farther away from here last surgery when she developed Pneumonia and went into respitory failure. She died in our arms at 5 months and 2 days old.
'We love and miss you! Mom, Dad and your Twin Sister McKenzie'


---
Shannon Elizabeth Crawford

1/16/07-1/19/07
Congenital Diaphragmatic Hernia and Hypoplastic Left Heart Syndrome
"Some people only dream of angels, we held one in our arms"
You can view her website here:
www.shannonelizabeth.virtual-memorials.com
Daughter of Kate and Steve Crawford
---
Leland David James Ellis
---
William Billy Thomos Jones
5/20/09-5/21/09
Billy died due to under developed lungs, I suffered PPROM at 20.6 weeks and he was born at 27.1 weeks gestation. Much wanted and much loved brother for Jonathan.
Sweet son to Anita


---
Malachi Ezekiel Harvey
11/18/07-11/21/07
Malachi was born November 18, 2007 in Sacramento, CA and lived for 3 days. He went home to be with Jesus November 21, 2007 and will always be loved and never forgotten


Freya Jane Ledwidge-Plunkett
---
Riley Aston Chase Boyes
10/2/09-10/10/09
Riley was born at 29+6 days weighting 3 pound + 5 ounces. At 7 days old he came down with NEC and was transferred to another hospital for surgery to remove the infected bowel. They discovered that his whole bowel was infected. Riley passed away at 8 days old from NEC.
Beautiful son to Kayleigh Boyes
You can view Riley's website at:
http://riley-boyes.gonetoosoon.org
---
Elizabeth Stacey Easter
9/14/1993-9/18/1993
Miss u now as much as i did the day i lost u, Sleep tight baby girl. Always & Forever . Mummy xxxxx
Beautiful Daughter of Jade Easter
You can view Elizabeth's site here:
http://elizabethstacey-easter.gonetoosoon.org/
---
Kaydence Bailey Turcotte
08/29/05-9/27/05
My precious angel was born at 26 weeks 3 days just as huricanne Katrina was making landfall in new orleans Kaydence was being born.. She fought a long hard battle to remain with us. At birth her heart rate was extremely low. Kaydence passed away in her daddys arms after a long day or declining health. She had caught sepsis and her body began to shut down. We chose as a gift to her to take her off life support and and give her the best gift we could. The gift of death, she is now at peace no more hurt fighting for every breath. Fly high my baby girl...
Beautiful Daughter to Tania
You can view Kaydence's webpage here:
http://kaydence-turcotte.gonetoosoon.org
---
Yasmin Nellist

5/6/1995-5/7/1995
Yasmin and her twin were born at 30 weeks due to Yasmin being in Fetal Distress. However Yasmin had been starved of oxygen for so long she suffered from brain damage. She fell asleep at 46 hours old.
Yasmin is the beautiful daughter on Bon and twin sister to Jazmin.
You can view Yasmin's site here:
http://yasmin-nellist.gonetoosoon.org/memorial/
---
Declan James Barber
9/22/07 (Lived for Four Hours)
My waters broke at 20 weeks gestation with Declan. I was rushed into the hospital, then was rushed to another hospital where they had a bed for me. I was 20 weeks but my little baby boy hung on in my belly till 28 weeks gestation. When he was born he tried to cry but his lung callapsed and he was rushed to scbu. They tried to get air into his lungs, but failed. He died in my arms after fighting for 4 hours.
Beautiful son of Sueann Warren
You can view Declan's Site here:
http://declan-barber.gonetoosoon.org/
---
Krista Lee Darrow

7/30/1987-9/10/1987
Krista was a twin to Kari. Krista was born at 3:20 am and Kari at 3:22. They were both 3 lbs and 15oz. Krista had inflammation in the fluid lining of her brain, called Herpes encephalitis,Simplex Virus Type 1. This is the virus that causes fever-blisters on one's mouth. Krista went blind, deaf, mute, and paralyzed. At 1 month and 11 days old Krista passed away. Her parents were able to hold her and say goodbye.
Krista's twin sister Kari has set up a memorial site for Krista here:
http://krista-darrow.gonetoosoon.org
---
Baby Shackleford

9/27/01-9/28/01
This wee beautiful boy was born on September 27 and passed away on September 28, 2001. He passed away while his mommy was still unconscious and she never got to name him. He is the son of Erica Benoit.




---
Phoebe Mae Davies
8/10/08-8/17/08
Phoebe Mae is the second beautiful angel of Lisa. Phoebe's older angel sibling Olivia was stillborn in 2006.
Phoebe died at 7 days old from NEC. It always breaks my heart to see such beautiful babies lost to the same thing that killed Calypso.
Phoebe was a beautiful little girl and is missed by so many.
You can view Phoebe's site here:
http://phoebe-mae-davies1.gonetoosoon.org/
---
Joseph Michael Davies

7/18/09-7/19/09
Baby Joe died at 1 day old from E Coli and other complications of prematurity. He is the third angel born to Lisa Davies, and is little brother to Angel's Olivia and Phoebe.
This precious little boy has a special place in my heart with his sisters. He was breathtaking and I love his mommy so much.
You can view Joe's website here:
http://joseph-davies.gonetoosoon.org/
---
Mollie-Ann Leigh Donaldson

3/1/10-3/13/10
Mollie-Ann was born on 1/3/10 13 weeks prem & weighed just 1lb 4oz she fought so hard but passed away just 12 days later with respiritry distress syndrome, me & her daddy are just 18 and were hoping to grow up with her :( . we miss you so much angel, you were to perfect for this world, see you at heavens gate <3
Daughter of Kirsty


---
Kaitlyn Louise Stoddon
12/10/07-1/8/08
Kaitlyn was born at 31 weeks and weighed 3 lbs 1oz. During delivery by use of forceps Kaitlyn was injured and it caused bleeding on her brain. While in the NICU it was discovered that Kaitlyn also had duodenal atresia (Duodenal atresia is the congenital absence or complete closure of a portion of the lumen of the duodenum the top part of the large intestine.) so she needed corrective surgery to be able to have that working naturally .

She was transferred to another hospital where she would spend the next 4 weeks in the normal NICU up and downs. The day before she was meant to be transferred to a hospital closer to her mummy and da Kaitlyn passed away due to a intraventricular hemorrhage caused bu the injury given to her at birth.
Kaitlyn is the beautiful baby girl of Samantha


---
Lily Nicole Scott
2/16/10-3/6/10
My angel Lily Nicole Scott was born February 16, 2010 at 27 weeks and 4 days gestation. There was so many things due to her being born early.
I had an emergency c section because there was no fluid in the sac but yet my water never broke and she kept rolling on her cord and making her heart drop. When she was born we found out that her cord was on the side of the placenta instead of the middle, the placenta was smaller than normal and had very bad blood clots in it so lily wasn't get nutrients and stuff she needed, and she was growth restricted and was the size of a 23 week old baby.
Lily was only 15 ounces and 10.2 inches long. She was breathing on her own on day 2, but had to keep the oxygen tube on because she was working to hard by herself. She was able to cry, suck a pacifier, open both eyes, hold your hand... She was perfect but she had severe blood on her brain on day 2 of life.
The blood sat on her brain so long it made bad holes and she just couldn't fight no more. The doctors didn't think she would survive through the night when she was born but she lived for 18 beautiful days and grew her wings on March 6, 2010. I love you to the moon and back! X's and O's
Sweet Baby Girl to Jennifer and Brent Scott

---
Powered by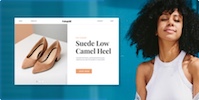 Create your own unique website with customizable templates.